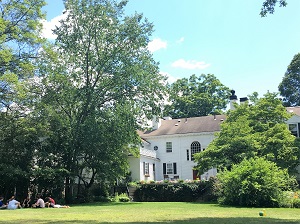 Poetry and the Language of Loss
A lecture given by Anna Friedrich at Southborough L'Abri on June 1st, 2018. For more information, visit www.labri.org/mass and for more L'Abri lectures, visit the L'Abri Ideas Library.
All of us know loss of some sort, whether it's the loss of a friendship, the loss of a season of life, or the more dreaded loss of love, of faith, and finally the loss that death brings. Those who have walked the darker valleys of loss often speak of a lack of resources in our day - where are the cultural practices that help us grieve? Can we affirm God's sovereignty and human grief? Many poets have wisdom to share here. The unique expression of poetry can be a healing place that invites and makes room for the complicated experience of grief. Together in this lecture, we will look at a handful of poets who give voice to, challenge, and wrestle with the reality of loss.
The Copyright for all material on the podcast is held by L'Abri Fellowship. We ask that you respect this by not publishing the material in full or in part in any format or post it on a website without seeking prior permission from L'Abri Fellowship. ©Southborough L'Abri 2018