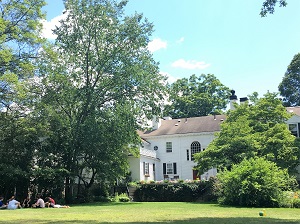 A lecture given by Ben Keyes at Southborough L'Abri on June 15th 2018,  Part 1 of 3 for our Summer Seminar: "A Flash of Eternity: Happiness, Joy and the Good Life"
For more information, visit www.labri.org/mass and for more L'Abri lectures, visit the L'Abri Ideas Library.
Life's Elusive Goal: Reflections on Contemporary Views of Happiness
What is happiness to the average American today? We are told to do whatever makes us happy and our nation is founded in part on the right to pursue that goal. To achieve happiness is touted as a sufficient source of meaning in life and yet few people seem to understand what it is. How are Christians to understand the longing for happiness that we see around us and in ourselves? Can the Christian faith challenge and comfort an unhappy culture seeking happiness?